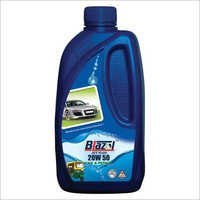 Jet Plus 20W50
Product Description
The Jet Plus 20W50 Engine Oil is designed to enable excellent engine performance. Our Jet Plus 20W50 Engine Oil is developed using premium additives, bases and solvents. The Jet Plus 20W50 Engine Oil, which we offer, is widely acclaimed for their quality and performance. Also, Jet Plus 20W50 Engine Oil helps in smooth functioning of vehicles.

Product features and benefits :

Excellent oxidation stability
Protects against nitrate formation.
Low ash contents reduce formation of sludge in the engine.
Suitable for all seasons.
Quicker engine start & longer battery life.
Increased fuel efficiency.
Applications :
Highly recommended for cars, trucks, auto Rickshaws and commercial vehicles with CNG engines, operating under moderate duty conditions. Also suitable for pertrol engines operating with dual fuel kit.
Performance standards :
Api Sf / CD
IS 13656 – 2002
ACEA A2/B2
API CF/SF

Typical Physical Characteristics
Characteristics
20W50
Kinematic Viscosity, Cst @ 100 oC
16.5-20
Viscosity index, min.
122
Pour point, Coc, oC, min.
233
Tbn, mg. Koh/gm.
5-7.5
Packing : 210 ltr, 50ltr, 20ltr, 8.5ltr, 7.5ltr, 6ltr,3.5ltr, 3 ltr, 1 ltr
Contact Us
No. 1706/1, 3rd Phase, GIDC Industrial Area, Vapi, Gujarat, 396195, India
Phone :+918061882616