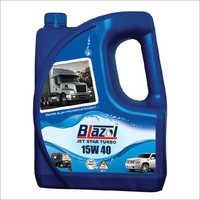 Jet Star Turbo 15W40
Product Description
Jet Star Turbo 15W40 Engine Oil is the heavy duty diesel engine oil designed to meet the warranty requirements of most manufacturers of diesel engines. Our Jet Star Turbo 15W40 Engine Oil is specially developed for new generation heavy duty super and turbocharged diesel engine driven HCVs. Jet Star Turbo 15W40 Engine Oil is a blend of base oil and specially selected additives designed to provide excellent performance in all recommended applications. Contains effective detergent-dispersant to keep sludge and varnish deposits to a minimum. Additionally, our Jet Star Turbo 15W40 Engine Oil is fortified with oxidation-corrosion inhibiters. Powerful innovative additive chemistry controls soot thickening and soot induced wear, making this grade suitable for use in low emission diesel engines.

Product Features and benefits

High viscosity index provides effective lubrication at operating temperature.
Innovative additive chemistry controls soot thickening & soot induced wear ensuring better protection of the tolerance components, resulting in engine durability.
High shear stable viscosity index improver provides excellent viscosity control preventing thickening of oil to maintain its 15W-40 viscosity throughout the service interval offering stay in grade performance which provides improved engine protection.
Applications
Mixed fleets of new generation diesel engines.
Construction, maine, mining and heavy duty stationery engines.
Turbo charged diesel engines.
Precautions :
Always change filter while changing the oil.
Performance standards
Typical Physical Characteristics
Characteristics
15W40
Kinematic viscosity, cSf @ 100 oC
13-17.5
Viscosity Index, min.
121
Pour point, C, max.
-10
Flash point, Coc, oC, min
210
TBN, Mg. Koh/gm.
11-14.5
Packing : 210 ltr, 50 lr, 20ltr, 10ltr, 7.5ltr, 5ltr, 3ltr, 1 ltr, 500 ml
Contact Us
No. 1706/1, 3rd Phase, GIDC Industrial Area, Vapi, Gujarat, 396195, India
Phone :+918061882616