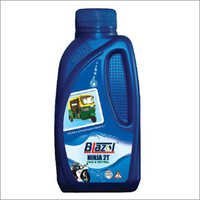 Ninja 2T
Product Description
Ninja 2T Engine Oil is the super-premium lubricant specially designed for use in 2 stroke, motorcycles and scooter. This Oil is manufactured from selected low-carbon foaming base oil. Also, Ninja 2T Engine Oil is fortified with non-metallic, ash less detergent dispersant additive and rust inhibitors; which provide maximum engine protection during storage and minimize spark plug fouling pre-ignition, ring sticking and combustion chamber deposits. Ninja 2T Engine Oil is a very advanced, low smoke, two stroke engine oil for latest generation air or water cooled scooter engines. It comes with oil injection or premixed systems, which maintain optimum power while providing outstanding protection.

Benefits and features

Reduction in visible smoke.
Minimizes piston ring sticking and helps reduce exhaust port fouling.
Keeps engine parts clean.
Mixes easily with gasoline at low temperatures for premix applications.
Lower oil consumption.
Environment friendly.
Applications
Recommended for CNG & petrol vehicles.
Other air-cooled 2-Stroke motorcycle engines where the OEM specifies API Tc quality oil.
Performance Standards :
API TC / JASO FC
Packing : 210 ltr, 20 ltr, 1 ltr, 500 ml
Contact Us
No. 1706/1, 3rd Phase, GIDC Industrial Area, Vapi, Gujarat, 396195, India
Phone :+918061882616