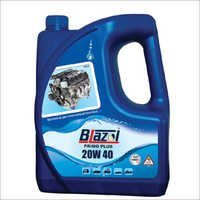 Primo Plus 20W40
Product Description
Primo Plus 20W40 Engine Oil is a multi-grade engine oil meeting API Cf-4, performance requirements. This Primo Plus 20W40 Engine Oil is formulated from selected base oils comprising of antioxidant, detergent / dispersant, anti-wear and a special oil soot thickening control agent, to give optimum performance in modern and heavy duty diesel engines.
The Primo Plus 20W40 Engine Oil provides ease of engine starting in low and high temperature conditions and increase engine durability maintaining viscosity. It possesses excellent viscosity characteristics with initial kinematic viscosity of 14.60 CST at 100 degree CTO resist pressure drop in service.

Features and benefits

Provides excellent protection against high temperature, engine deposits, ring groove carbon, piston and bearing lacquer, top deck and crankcase sludge
High oxidation stability protects against formation of gums, varnish and resist oil thickening and filter plugging for longer drain period.
Overall outstanding performance accounts to fuel saving and prolonged engine life.
Applications
Commercial road transport and off-highway vehides applications
New generation's automotive vehides.
Precautions
Always charge filter when changing engine oil.
Short trips ; stop and go traffic, excessive dust or dirt-such conditions are very hard for engine oils and may lead to frequent oil changes.
Performance standards
Api Cf – 4
Is – 13656 – 2002
Typical Physical Characteristics
Characteristics
20W 40
Kinematic Viscosity, cSt @ 100 oC
12-16.5
Viscosity index, min.
116
Pour point, oC, max.
-8
Flash point Coc, oC min
230
Tbn, mg. Koh/gm.
9-12
Packing : 210 ltr, 50ltr, 20 ltr, 10 ltr, 7.5 ltr, 5 ltr, 500 ml
Contact Us
No. 1706/1, 3rd Phase, GIDC Industrial Area, Vapi, Gujarat, 396195, India
Phone :+918061882616